What comes to your mind when the words 'memory foam' is mentioned? Most of you would automatically think of  pillows, mattresses and even bras. However, Always (otherwise known as Whisper to us) has recently decided to attempt to outdo their competitors by producing the world's first ever pad made with memory foam!
We couldn't wait to put this to the test!
Design / First Impressions
Credits: always.com
For this series of pads, they categorised the different types of pads into sizes from 1-5 depending on one's needs.
On the side of the boxes is this informative little table which tells you which sizes are appropriate for what kind of flow, for day or night, and even what sizes of panties the pads fit! We found this especially useful for deciding which size of pad to use according to our flow that day.
(Left: Size 2 Heavy Flow (27cm) | Right: Size 4 Heavy Flow Overnight (30cm))
For this review, we purchased their Size 2 Heavy Flow (27cm) and the Size 4 Heavy Flow Overnight (30cm) as pictured above. When we first opened them, we were amazed by the immensely soft foam texture of the pad – It feels just like a memory foam! The packaging is a typical floral feminine one so nothing much on that. There were also some little horizontal wells across – perhaps it is to help with the absorption of the blood? Let's find out!
(Ignore the stains, it was taken after our tests!)
Rating: 4/5
Absorption Pt 1 (How long it takes for the 'blood' to be absorbed)
Next, we tested how fast the 'blood' (made of corn syrup, red food colouring and a little flour) were absorbed by the pad! The stopwatch was stopped when the 'blood' has been absorbed past the top layer.
Size 2 Heavy Flow (27cm)
Time taken: Approx 58 seconds
Size 4 Heavy Flow Overnight (30cm)
Time taken: Approx 1 min 4 seconds
Maybe it's due to the flour added, but we were disappointed by how long it took for the liquid to even be absorbed past the top layer of the pad! We did more tests without the flour and it still took a relatively long time to be absorbed, although it did take a little faster than the vids above. It seems like the well-like structures didn't do anything for the absorption after all.
Rating: 2/5
Absorption Pt 2 (Transfer test)
Next up, we tested how 'transfer proof' the pads are after absorbing the 'blood'! This is to test out how 'dry' our down-there would feel after a series of blood flows!
Size 4 Heavy Flow Overnight (30cm)
(Left: Size 2 Heavy Flow (27cm) | Right: Size 4 Heavy Flow Overnight (30cm))
Although these pads took a little longer to absorb (in pt 1), when it was left to absorb the 'blood' for a while, the liquids did not seep through to the top layer easily! When we swept our hands over the top layer it almost felt dry.
Rating: 3/5
Leakage Protection
Moving on, we then tested how well this pad performs in protecting us from unwanted leakages for times when we are in different positions (eg. sleeping)! We stimulated these scenarios by tilting the pad in weird positions to see how quickly the pad is able to absorb the liquids even in awkward positions.
Size 2 Heavy Flow (27cm)
Size 4 Heavy Flow Overnight (30cm)
Probably due to this slow absorbency as shown in Absorbency Pt 1, the leakage protection isn't great either! Just look at how the blood is slipping around the pad before it gets absorbed. Seeing this made us afraid to wear this on a heavier flow day in bed!
Rating: 1/5
Comfort
Credits: Clevver.com
Finally, when worn, contrary to its promises of being so thin and able to contour to your body shape that you can barely feel it, we did feel the pad. In fact, we were constantly reminded of it. Though the flexfoam made it very soft and comfortable when you're sitting down, but you can definitely feel it there when you're moving around, as the pad is quite bulky.
Rating: 2/5
Final Thoughts:
Here are the summarised ratings of the pads for every test we did:
Design / First Impressions – 4/5
Absorbency Pt 1 (rate of absorption) – 2/5
Absorbency Pt 2 (transfer-proof) – 3/5
Leakage Protection – 1/5
Comfort – 2/5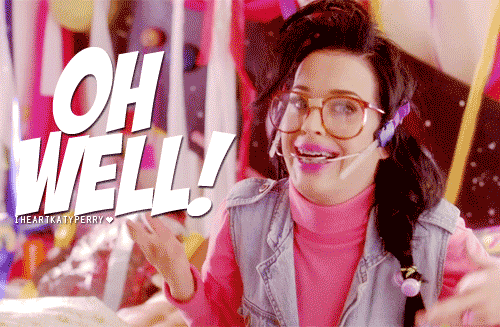 Credits: Giphy.com
Overall, although we had a very good first impression, the pad performed below expectations.Our colleague gave feedback that because of the narrow end towards the back of the pad, it didn't feel as secure as it should be, as she was afraid that that there might be accidental leakages. She also noted that despite not having a heavy flow that day, the pad made her period seem redder and heavier than it actually was – The blood was spread out throughout the pad rather than being absorbed INTO the pad. This is probably due to the pad's inability to effectively absorb the blood deeper into its layers as mentioned in the tests above.
Finally, to double check if our results were accurate, using the Laurier Super Slimguard as a benchmark, the Laurier pad took about 11 seconds to absorb this mixture (in our previous Laurier review, it took about 7-8 seconds). Hence, we were able to conclude that there were only a few seconds of discrepancy, and even after subtracting the few seconds off the Always infinity pad, it will still take 40-50 seconds. That is a very stark contrast indeed.
Still, we have seen some good reviews of this pad and though it might not work for us, it might for you! Tell us what you think in the comments below, as well as any other pads you'd like us to review!
Don't forget to check out our other pad reviews, as well as the cheapest places to get sanitary pads in Singapore!
Thank you for reading and we'll see you again soon!