So many aches, so little time! Being pregnant may feel like your whole body is experiencing an ache.
Credits: Giphy.com
BUT!! once you get to the bottom of what is causing you pain and treat it, you'll be much happier.
In this article we zoom in on the top 6 most common aches and pains pregnant women experience, why they happen, and share tips on how you can deal with the discomfort.
1. Lower Back Pain
Credits: Giphy.com
The problem:
Up to 70% of women have reported that lower back pain is one of their biggest pregnancy struggles, so you aren't alone! Unfortunately, lower back pain can also be very painful and at times debilitating.  Lower back pain can range from dull aching to sharp pain or stiffness.

The solution:
For long-term prevention, exercise and stretching can help strengthen your back muscles to carry the new weight and lessen the aching. If you need a quicker solution, prop yourself up comfortable with pillows and apply a heat pad to the painful area to soothe it!
2. Headaches
Credits: Giphy.com
The problem:
All of the changes in your body are big triggers for headaches, but since you can't take the usual painkillers, they are much harder to chase away. Throbbing temples, dull aches, and stinging down your neck are all common parts of a pregnancy headache, but you don't have to suffer through them without help.
The solution:
Dehydration is a common cause of headaches and pregnant women are at a much higher risk. Make sure you're getting enough water, rest, and don't strain your eyes. Poor posture or low blood sugar could also contribute, so pay attention to what is happening when your headaches occur. Discovering the cause will open the doors to a cure!
3. Feet Aches
Credits: Giphy.com
The problem:
Anytime you're on your feet, they begin to ache and hurt way too fast. It makes big shopping trips a struggle, much less trying to complete a shift at work if you have a job that requires a lot of walking around. How are you supposed to get anything done?
The solution:
Your raised hormone levels can cause swelling throughout your body, causing your feet to get exhausted and swollen easier carrying you around. Choose your footwear carefully and to lessen the swelling, drink plenty of water and prop your feet up whenever you have downtime. Try icing the inside of your ankles for short periods of time, too.
4. Cramps
Credits: vivalastatic.com
The problem:
A tummy cramp while pregnant is terrifying! You don't have to worry about moderately painful cramping, though. They're a common issue for pregnant women. The extra pressure around your pelvis and the added weight can cause your abdomen muscles to be weak, causing the cramps to happen.
The solution:
Rest! If the cramping gets too bad, sit or lay down for a bit until it passes. To keep your body from continuing to struggle, do pregnancy-safe stretching or exercising to strengthen your muscles. You can also apply a non-medicated heat pad to the cramping area to loosen and soothe the muscles.
5. Breast Soreness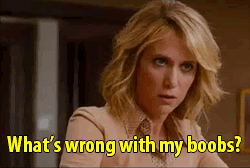 Credits: Giphy.com
The problem:
Pregnancy does a lot of new things to our bodies and our breasts get some of the most action. As your milk glands are stimulated to encourage growth and production, your breasts can get sore from the work. Unforgettable tenderness is annoying but also can make simple things, like sleeping, harder to accomplish.
The solution:
Always make sure you're wearing a supportive bra that fits well and offers full coverage. Warm showers and cold or warm compresses and pads can help to relieve the pain, too. Avoiding touching them or wearing anything too tight until the tenderness is back under control.
6. Heartburn
Credits: Giphy.com
The problem:
Everything you eat is making your stomach burn! Acid indigestion is a huge problem for the majority of pregnant women. When you pair that with strange cravings that have taken over your diet, it can seem impossible to get a simple meal down you.
The solution:
Even though you want to eat Tums like candy, it isn't your best option. Instead, keep your meal sizes small and instead increase the frequency of your meals. Don't eat too quickly or lay down right away, either. Instead, go for a short walk to get your body digesting properly.
Slaying The Soreness
Moving past your pregnancy pains and aches can be done with a little attention to detail and a high-quality heat pad. Creating and caring for a baby inside of you for 9 months is a full-time job, but every momma needs some pampering and a little break. Solving the sources of your pain and treating the aches gets you past the struggle and closer to a happy, pregnant glow.