Apart from the more common essential oils (Lavender, Rose, Ylang-ylang, Primrose, Frankincense, Clove, Ginger oil) that we've discussed in a previous article, here are a few more essential oils that you may want to try out to try to soothe your menstrual cramps!
What Are Essential Oils (EOs) and What Are They Used For? 
Essential oils are compounds extracted from plants. The oils capture the plant's scent and flavour, also called its "essence." Unique aromatic compounds give each essential oil its characteristic essence. Essential oils are obtained through distillation (via steam and/or water) or mechanical methods, such as cold pressing. Once the aromatic chemicals have been extracted, they are combined with a carrier oil to create a product that's ready for use.
For centuries, people have used essential oils to treat a variety of conditions ranging from headaches to heartburn. Today, these potent plant oils are gaining popularity once again as more and more people are turning to non-traditional treatments, as well as reduce over-reliance on medicine.
Although there are varying reports on the effectiveness of EOs, it is still an alternative worth considering if you prefer to seek out the more natural form of treatment!
#1: Cypress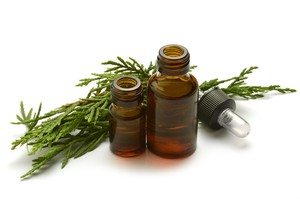 Credits: ebay.com.au
Cypress tree was used by ancient civilisation for medicinal purposes as it is beneficial for both circulatory and respiratory system. Cypress contains astringent properties which helps improve blood circulation. In other words, it is good for relieving menstrual cramps (or other forms of cramps), arthritis and more!
#2: Peppermint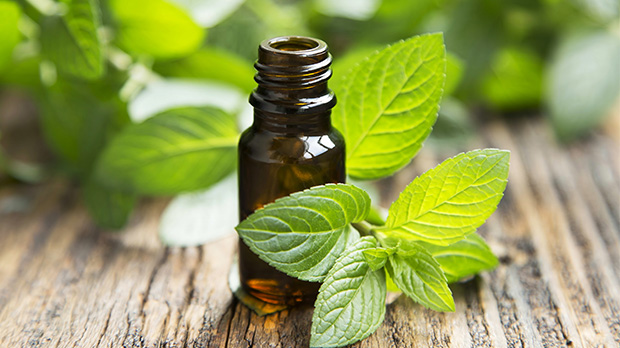 Credits: Thetruthaboutcancer.com
Peppermint oil is amazing because it can relieve headaches and inflammation and boost your energy. Fluctuating estrogen, progesterone, and testosterone can leave you feeling fatigued at different points of your menstrual cycle. A little peppermint EO can help!
#3: Clary Sage
Clary sage works to regulate the menstrual cycle by balancing hormone levels naturally and stimulating the opening of an obstructed system. It has the power to cure symptoms of PMS as well, including bloating, cramps, mood swings and food cravings. Clary sage is also antispasmodic, meaning it treats spasms and related issues such as menstrual (or muscle) cramps, headaches and stomach aches. It does this by relaxing the nerve impulses that we can't control.
#4: Cinnamon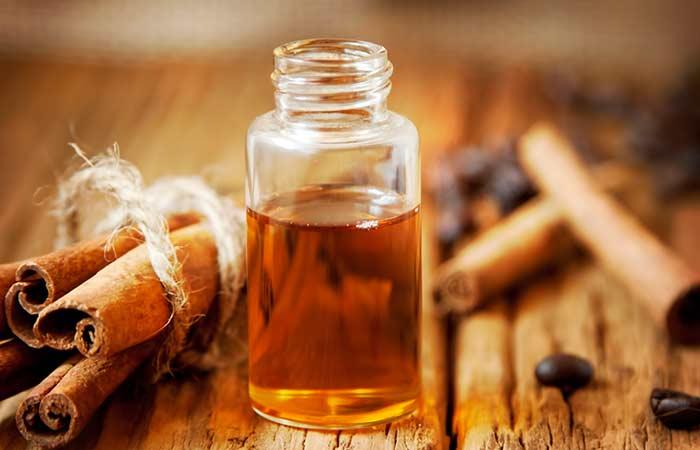 Credits: Stylecraz.com
Cinnamon may be most famous for its culinary uses, but the aromatic spice has been used for centuries in alternative medical treatments. Cinnamon is known to reduce inflammation in the body. Massaging your lower abdomen with cinnamon essential oil may help reduce inflammation and symptoms of menstrual cramping.
#5: Chamomile
Credits: Offthegridnews.com
This essential oil is often used to help calm the body and mind, and it can relieve stress, anxiety, and irritability. But it also has strong anti-inflammatory properties that can help reduce premenstrual pains and relax muscles.
#6: Eucalyptus
Credits: Draxe.com
This essential oil is known for its anti-inflammatory properties that can help reduce the cramps associated with menstruation. The stimulating, decongestant properties can help calm the irritability and moodiness as well.
How To Use Essential Oils For Menstrual Cramps:
MASSAGE
If you're looking to use essential oils to relieve menstrual cramps, massaging the oils into the affected area is considered to be the best approach. Add a few drops of your preferred oil to a carrier oil.
Carrier oils are neutral oils that will help stretch the potent oils and make it easier to apply and use during a massage. Common carrier oils include:
Avocado
Almond
Coconut
Extra-virgin olive
Massage a small amount into your abdomen once per day for at least one week before the start of your period.
AROMATHERAPY
When you hop in the shower, sprinkle a few drops of an essential oil—or a combination of a few—into the tub. The steam from the water will mix with the EO's and act like an all-natural vaporiser. You could also add a few drops into an air humidifier or purifier so that the it'll be circulated throughout the room!
INGESTION
You'll want to make sure you get food grade essential oils for this. You can put them in your tea, a batch of brownies, or even into rice (Lavender rice is so yummy!)
I hope this article has helped and remember, don't be afraid to embark on your EO journey! After all, if it is proven to not be effective for you, you still smell good – No harm done!